Injection Service at Home Private Limited leverages extensive domain expertise and cutting edge technology to dispense smart home nursing services to elders who require a great degree of personal care. We offer comprehensive home nursing services for elderly people which encompasses home nursing services, critical care nursing, at-home nursing care and nurse at home service to cover every conceivable aspect needed for a healthier, happier and fulfilling golden years.
Whether the need is post-operative care, disease care, or care for any other age related symptoms, we are perfectly positioned to provide a medical attendant for home nursing care. The home nursing care service that we extend is specifically designed to meet the needs of elderly people. These services are easily available in most parts of Delhi NCR and are appreciated for their timeliness, quality and reliability. For now you can hire home nursing service dispensed by male as well as female nurses for elderly care in Gurgaon and Delhi.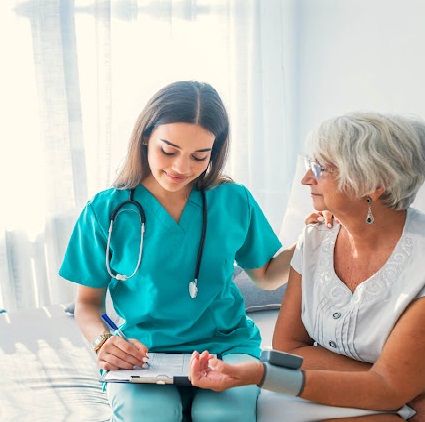 Why Choose Our Home Nursing Services?
Our trained home care attendants act as caregivers and make sure to take care of the patient's daily activities as well. All our trained nursing attendants make sure that elderly, unwell and disabled patients receive personalized and high-quality care at all times. Moreover, our home nursing services are extremely budget friendly as we charge affordable fees for these services. Thus, anyone who requires nursing care can reach us for a nurse required for a home in Gurgaon and Delhi.
We provide nursing services at home in Delhi and Gurgaon. Our nursing staff is widely appreciated for their professionalism, kind behavior and dedication. All healthcare experts of our nursing facility take special care in respect to hygiene, etiquette, behavior and communication to ensure complete satisfaction for the clients.